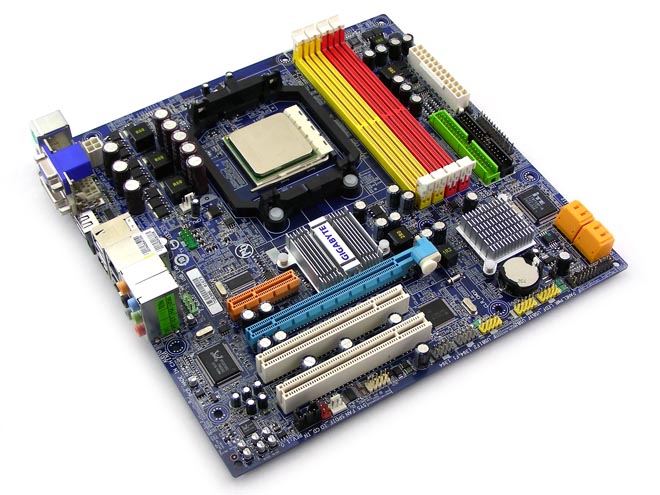 Wow, it has actually been three months since my last motherboard review and that has left a gap in our comparison tables that needs filling in a bad way. The thing is in order to have these comparison tables, it takes weeks and weeks of testing to get a stable balance and enough motherboards to have accurate scoring in a weighed scoring program. It takes ten motherboards and three eight hour shifts per board to test and retest the boards three times for a balanced score. This is for each platform so times that by two and it sheds a little light on why there has been a gap. We are however The Motherboard Homeworld and I apologize to our readers who rely on that aspect of the site. The bright side is that is all about to change and we have now many reviews in our queue of the G33, G35 Intel chipsets and the new AMD 690, we hope to be up to speed and back in the saddle soon.
Gigabyte is and has been one of the top players in the PC movement and we have worked with them many times in the past on many a project. They are only second to Asus and the number two company that has the enthusiast's ear and eyes in this industry. Specializing in overclocking and having motherboards that feature the latest in technology is their claim to fame, but they also have a value line of products for those on a budget. All in all Gigabyte has a product to fit any budget whether it is introductory or enthusiast.
AMD has been struggling with their chipset projects for the past few years and even though they have made more than a few nice advancements in their chipset design, they just do not seem to be embraced wholeheartedly by the enthusiast's community at large. The 570 and 590 chipset got a lukewarm response in the industry as well and there were many very decent motherboards based on those chipsets. What is strange though is that not many of those boards supported AMD's CrossFire platform only the 580 chipset boards supported this industry wide. This does seem odd to me as most good Intel based motherboards support CrossFire, but AMD's own brand of chipset boards mostly do not. Today's motherboard contender is based on AMD's latest chipset venture the 690 and once again we see no CrossFire support, but single card support with the addition of available onboard graphics is present.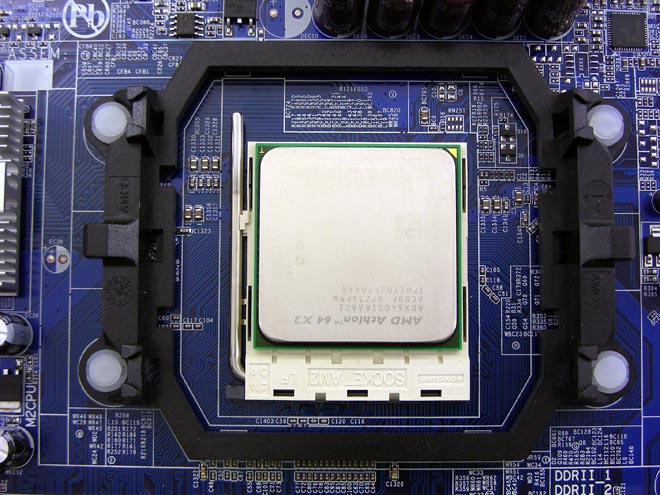 CPU Interface
AMD Sempron(tm), AMD Athlon(tm) 64, Athlon(tm) 64 FX, Athlon(tm) 64 FX X2
1GHz HyperTransport inteface speeds
PCI Express Interface
Compliant with the PCI Express 1.1a Specifications
1x16 graphics interface
Up to 4x1 PCI Express general purpose links
2D Acceleration Features
Highly optimized 128-bit engine, capable or processing multiple pixels per clock
Supports a maximum resolution of 2048x1536 @ 32bpp
Game acceleration including support for Microsoft's DirectDraw
3D Acceleration Features
Full DirectX 9.0 support
3D Texture support, including projective 3D textures
Anti-aliasing using multi-sampling algorithm with support for 2,4, and 6 samples
New generation rendering engine provides top 3D performance
Support for OpenGL format for Indirect Vertices in Vertex Walker
Motion Video Acceleration Features
Enhanced MPEG-2 hardware decode acceleration
MPEG-4 decode support
Hardware acceleration for WMV9 playback
Supports top quality DVD and time-shifted SDTV/HDTV television playback with low CPU usage
TV Out
Integrated TV encoder from Xilleon products with integrated Avivo(tm)
Supports Macrovision 7.1 copy protection standard (required by DVD players)
Supports the formats of component, composite and S-video outputs
Multiple Display Features
Dual independent displays including two digital outputs
Resolution, refresh rates, and display data can be completely independent for the two display paths
Supports both interlaced and non-interlaced displays
Integrated HD Audio controller for HDMI audio data
DVI/HDMI
Supports a TMDS interface, enabling DVI or HDMI 1.2 <1650>
HDCP 1.1 support on data stream with on-chip key storage
Universal Connectivity
10 USB 2.0 ports
SATA Gen 2 PHY support at 3.0GHz
4 ports SATA AHCI controller supports NCQ and slumber modes
ATA 133 controller support up to UDMA mode 6 with 2 drives (disk or optical)
TPM 1.1 and 1.2 compliant
ASF 2.0 support for manageability control
UAA (Universal audio architecture) support for High-Definition Audio
PCI v2.3 (up to 6 slots)
LPC (Low Pin Count), SPI (New Flash Bus), and SM (System Management) bus management
The Gigabyte GA-MA69GM-S2H (them and their long names) has many features that may appeal to a few various user groups; Home Theatre PC builders will like the addition of an HDMI output which enables High-Definition 1080p output to your big screen TV. Is anyone ready for a game of Command and Conquer TW at a resolution of 1920X1080?
Onboard graphic support only boasts DX9 capability, which at this point in time sadly is outdated as Vista and DX010 are ready for Prime Time, you can however add a VGA card via the motherboards single 16x PCIe slot if you want more 3D power. Serious gamers want SLI or CrossFire, so a single slot board is a mid level gaming solution at best. You can share up to 256MB of your system memory by dedicating it to the onboard graphics if you need to.
The sound environment is easy to use and navigate as seen in the pictures below. Auto-Jack-Sensing is really cool, but I like the ability to just plug the cables into whatever colored slot you want and then changing it on the fly to the parameters your speakers need. I use the Realtek environmental controls to custom tailor my audio reproduction. Everyone's aural reception is different and the ability to use the equalizer properly will enhance their audio experience.
VGA connections for the onboard video come in both the digital and analog variety as well as the HDMI output so connection to any monitor or modern day TV should not be an issue. Sporting enough USB 2.0 connections is a strong point as most devices these days are USB oriented and there is a FireWire IEEE connection as well, although that interface seems to be fading in all but the Camcorder arena. All the features are bulleted if you want to check them out, but lets move on and see how the layout of the board is.